As an American in the UK, there are a lot of things that I see as being completely different from their counterparts in the US. Sure, they call fries here "chips" and chips here "crisps". And aluminum isn't "al-loo-min-um" but rather "al -loo-min-e-um". Yeah, those are all true. But one of the biggest differences is in drinking culture. More specifically, the route in which you can get beer, wine, cider, or spirits. As in the US, the UK does a fairly bristling on-trade (bars, nightclubs, etc.) business but one of the most striking differences in beverage purchases is the off-trade in stores and such. In the US, when I want a bottle of wine, spirits, or beer/cider, I have to hop in a car. I drive to the store, browse the selection, pick out what I want, buy it, and drive home. Then I drink it, usually while surfing the internet and talking on Twitter. In the UK...I can get it delivered to my door. And in the UK, as long as I have valid ID, they'll deliver it anywhere. In the States, some states frown upon buying liquor online and having it sent to your house. Here in the UK, I can get a bottle of scotch and a case of beer with my bread, butter, and ground beef.
A bit ago, Marks and Spencer approached me to write a freelance editorial for them on the
Food and Wine section
of their website. I was happy to oblige. Not for the money, no. But rather it is a easy way to illustrate one of the biggest differences in the UK. So, let's investigate, shall we? Below is a screencap of their website:
Click for larger picture
First off, you can see they have a pretty wide selection of wines. They cover the gamut of types (red, white, rose, sparkling/Champagne) from a variety of countries (Portugal, Spain, USA, etc.). It is nice to be able to browse a good wine selection online and then have it delivered to your door along with the groceries for the week. But delving deeper into this you can see another trend in the UK that's RARELY seen in the US. To start, let's pick red wine:
Click for larger picture
Now let's go with something I'm more comfortable with in terms of knowledge. Let's choose USA:
Click for larger picture
You can see that they have a small offering of California reds available. There's a Ravenswood Zinfandel 2006 (top row, 3rd from left). It is one of their standard bottlings. They also have a variety of Bonny Doon wines. Let's choose the Central Coast Syrah 2008:
Click for larger picture
Looks like their standard bottling, right? Look closer:
Okay, let's go back to the main page and hit up some white wines:
Click for larger picture
And then Chardonnay:
Click for larger picture
Then France:
Click for larger picture
Let's be gentle and meek here. I'll narrow it to a pauper's wine. £200 - £299.99:
Click for larger picture
Mmm, a Puligny-Montrachet 1er Cru Leslumeux 2009. A cracking vintage (?). Either way, a standard bottling by the Domaine Jean Pascal et. Fils. But what of the other bottling, the Chablis Grand Cru Grenouille 2006? Check it out: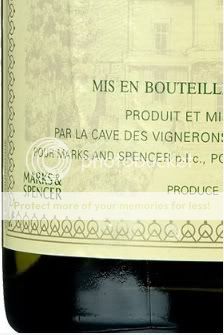 As you can see...they're PROPRIETARY bottlings. Bottlings done specifically for Marks and Spencer. You don't see that in the US. At most, you may get some bottlings by Trader Joe's that don't release the name of the wine. For these wines, no only is it a branded wine endorse by M&S but they go into where it's made, what's in it, and who made it. Check out the beer and cider section here. All proprietary, exclusive bottles for Marks and Spencer.
One of the most interesting things in the UK, I've found, is store brand alcohol. And it's not just limited to wine, beer, and cider. Marks and Spencer has it's own brand of port, sherry and spirits (not on the website but available in store). They're cheaper than their equivalent on the shelf, generally the same quality, and they even TELL you who makes it...it's just got the Marks and Spencer approval on it. And that is something I can get behind. I dunno if it's legal in the US but if it's not, I sure wish that would change. Store brand alcohol that is the same quality and even same name, but lesser prices? The Scottish blood in me enjoys the hell out of it.
So thank you, Marks and Spencer, for not only giving me the opportunity to talk about my experiences here in the UK but to enlighten my readers as well. And hey, recouping some hosting fees don't hurt either.